From 22 December 2021
Thailand Pass is temporarily closed for all new Test & Go and Sandbox applications (except Phuket Sandbox), effective from 22 December 2021 until further notice.
Those who already received Thailand Pass QR Code will be allowed to enter Thailand under the existing condittions of the scheme they have registered. All travellers are required to be tested 2 times using the RT-PCR method. The second testing will take place at government-designated facilities (no additional cost).
Registration for Thailand Pass under the Phuket Sandbox programme and Alternative Quarantine remain open, but the government will be reviewing the situation periodically.
Tips how to get it approved in no time
To visit Thailand, all travellers are required to register and present documents through Thailand Pass. (https://tp.consular.go.th/) Register online at least 7 days before departure.
ThailandPass System is a new online system that has replaced the Certificate of Entry (COE) application process for entering Thailand starting from 1 November 2021.
We gather some tips how to register for entering Thailand and how to get it approved in no time.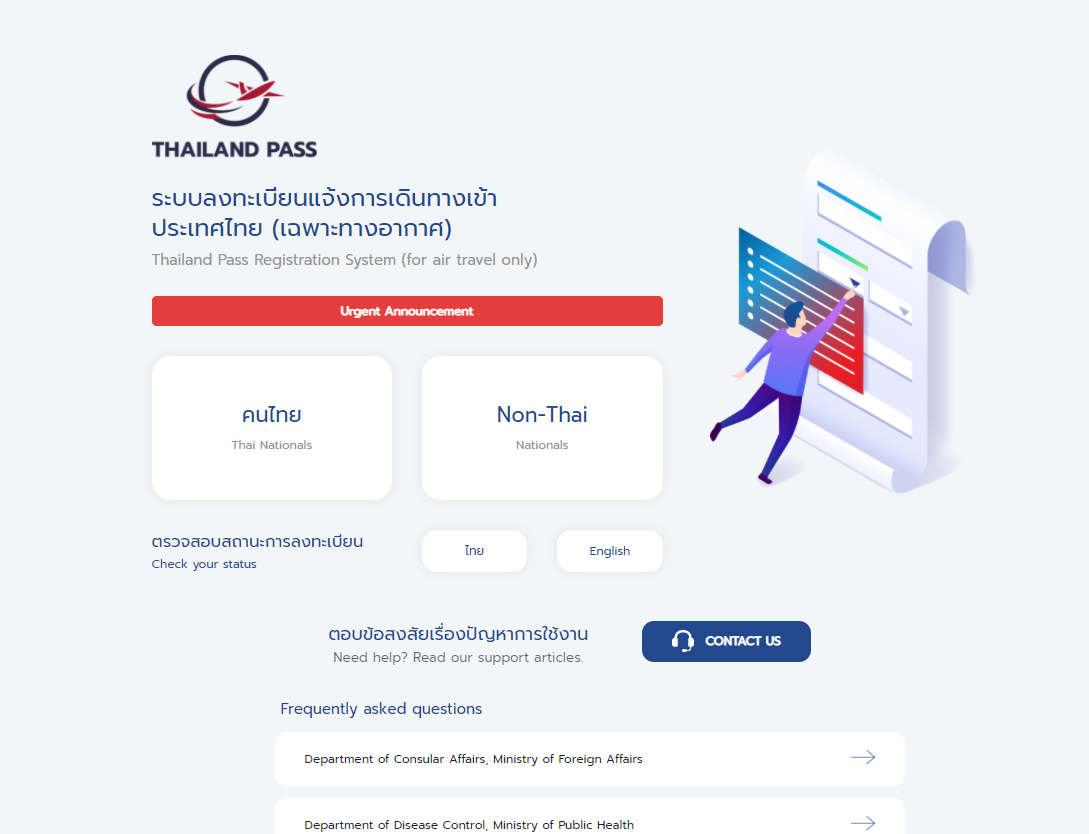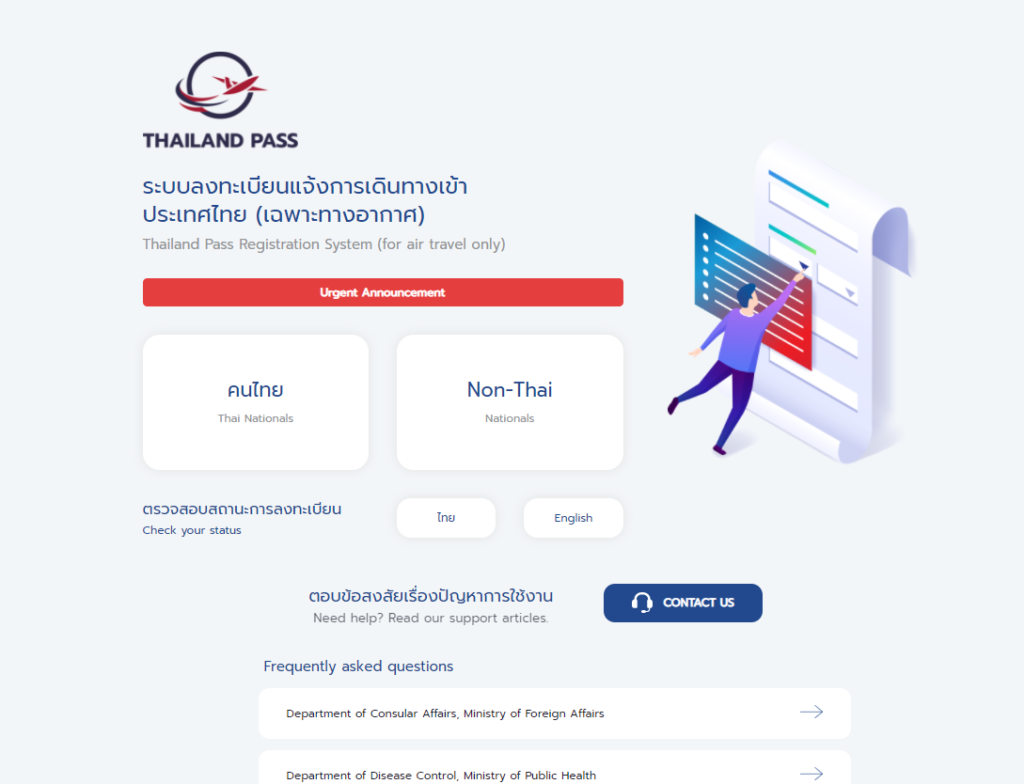 Before you register Thailand Pass system, please make sure that you have the required documents;
A Valid passport
Visa (If required)
Vaccination Certificate
Insurance which expressly in English and states clearly that it covers treatment and medical expenses Covid-19 at least $50,000.
SHA Extra Plus paid confirmation with a RT-PCR test and Antigen Self kit fee as well as transfer included. Here you can find the list of SHA Extra Plus. https://web.thailandsha.com/shaextraplus Please note that the confirmation from i.e. booking.com cannot get approved from Thailand Pass system.
**Only hotel confirmation from online platform will not be approved. Accommodation package must include SHA Extra Plus + booking PCR test & Antingen Self kit + Transfer.
Travellers who arrive at Phuket International airport are required to book RT-PCR test upon arrival via https://www.thailandpsas.com. The document is also required to be uploaded in the Thailand Pass system under Additional documents (if any)
All documents must be written in English.
How to Register Thailand Pass – Step by Step
Personal information
Name and Family name must be EXACTLY as your passport.Special character Ö,Ä and Å cannot be used in the system.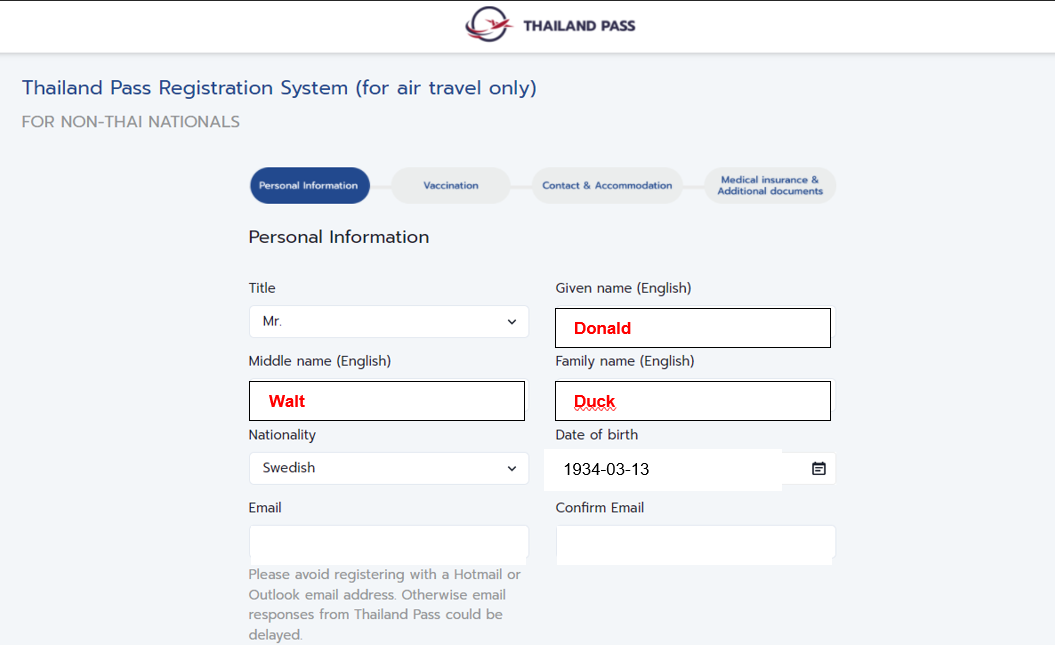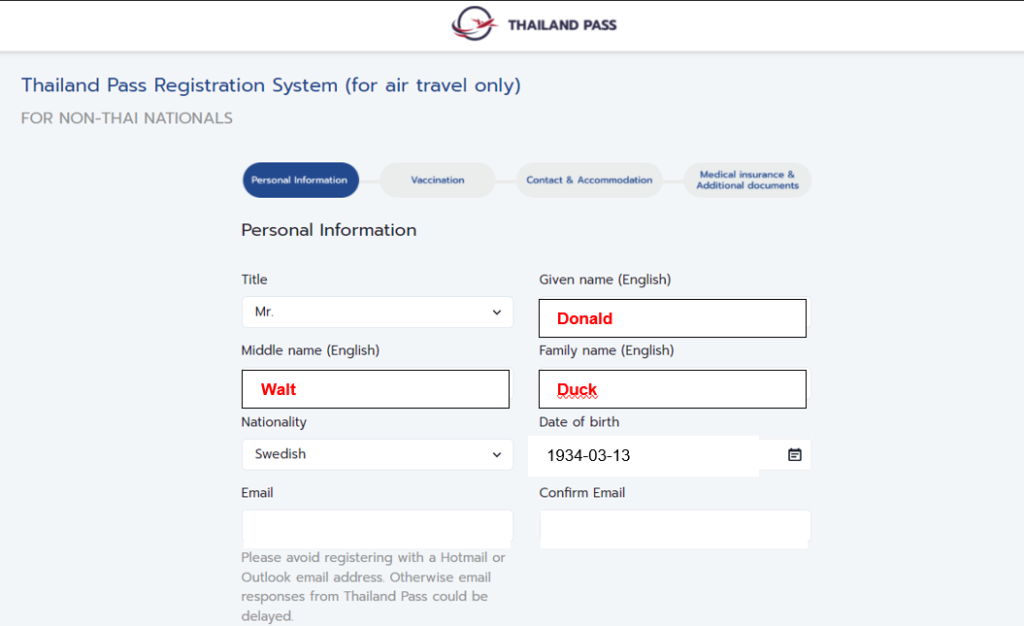 Information on COVID-19 Vaccination
If you have recovered from COVID-19, the medical recovery certificate in English must be uploaded.
Make sure that you upload evidence of BOTH doses (1/2 & 2/2) (except Johnson & Johnson). Registration with only 2nd dose will be rejected.
1st Dose – In case you do not have the 1st dose vaccine certificate, you can upload the certificate from 2nd dose or latest dose instead and fill in the date of your 1st dose.
2nd Dose – upload the certificate from 2nd dose or latest dose.
Add QR code of vaccination. The QR code should be captured or cropped, It must be seen clearly No text and shadow over the QR code. This will help you to get your Thailand Pass approved faster.
For those who have vaccinated with 3rd dos, you can upload certificate in "Add more"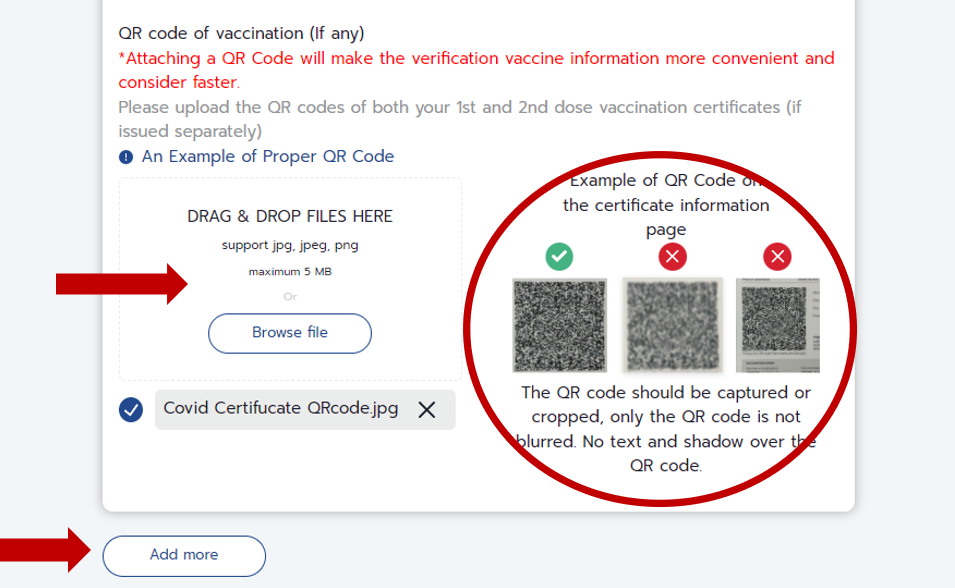 Problems with Thailand Pass Registration? Try the following
Use non-hotmail/outlook email to register; the system does not yet support registrations with hotmail or outlook accounts.
Use Google chrome or Firefox to apply.
Upload only JPG, JPEG or PNG files; PDF files are not supported.
Under Additional documents (if any): Travelers can upload PDF documents for example; receipt of PCR test in Phuket, Name change registration. Maximum 3 files.
Make sure that all files uploaded can be read clearly. Files that cannot be read will be rejected. We recommend cropping QR code from the PDF from your computer. Do not use your phone camera to take a QR code picture.
Make sure that you upload evidence of BOTH doses (1/2 & 2/2) of vaccination
Make sure that you upload evidence of hotel reservation (with AQ or SHA++ hotels) that includes airport pick-up and RT-PCR test
Useful links