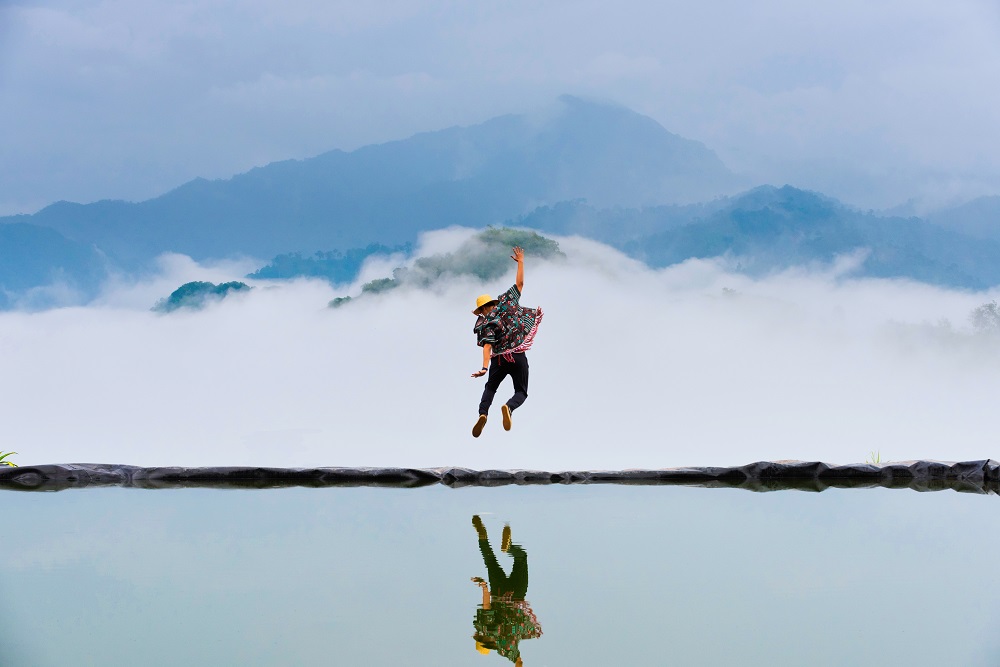 Thailand shorten the quarantine period to 10 days from 15 days, effective from April 1 and less paperwork is required. Rules on allowed activities are eased. Travellers may leave rooms during certain hours and may use swimming pool, fitness facilities or exercise outdoors, but must remain in the quarantine facilities.
During this time of uncertain travel, the government of Thailand has established a new set of requirements that travellers need to prepare for your trips. There is so much information and from many sources. It is undaunting for many. However, travel to Thailand during Covid-19 is not as complicated as you have imagined. The Tourism Authority of Thailand, Stockholm Office, has compiled information into small and easy steps. It is complete and easy to understand.
Travel without a visa
Thailand has allowed foreigners to enter the country by air under the Visa Exemption program. Travellers can travel without obtaining a visa and can stay up to 45 days. The travellers need a certificate to show they are free of Covid-19 72 hours before travel. They must obtain a Certificate of Entry (COE), provide health insurance covering covid-19 up to the cost of 100,000USD and undergo the mandatory quarantine.
From today (2021-03-23) the quarantine is reduced from 15 days to 10 days and travellers are required to stay at government-approved quarantine facilities or Alternative (Local) State Quarantine (ASQ/ALSQ) facilities. This can include luxury hotels, some of which have developed quarantine packages. However, the shorten quarantine period will apply to those who do not travel from countries with a record of new virus variants. Please remark that your arrival day counts as day 0. A full list of participating hotels and resorts, along with package rates, can be found here: Asq.locanation.com
You can find out information about ASQ/ALSQ, regulations and measurements before and after entering Thailand, update activities that may offer during your quarantine here: Happyquarantine.tourismthailand.org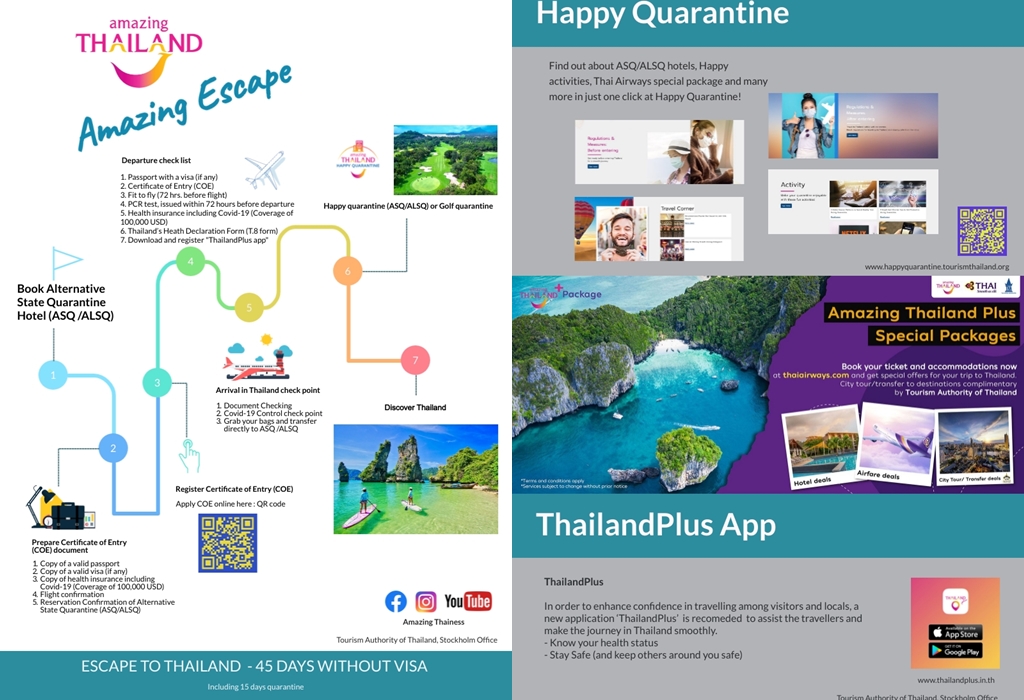 How to enter Thailand during Covid-19
1. Book Alternative (Local) State Quarantine Hotel (ASQ / ALSQ)
2. Prepare Certificate of Entry (COE) documents
Copy of valid passport
Copy of visa (if any)
Copy of health insurance covering treatment of Covid-10 (coverage 100,000USD)
Flight confirmation
Reservation confirmation of Alternative State Quarantine Hotel (ASQ/ALSQ)
3. Online register Certificate of Entry (COE) here.
4. Once arrive at the airport before departure, travellers must show the following documents
Passport with a visa (if any)
Certificate of Entry (COE)
Fit to Fly Certificate (72 hours before departure)
PCR test which is issued 72 hours before departure
Health insurance including Covid-19 (coverage 100,000USD)
Thailand's Health Declaration Form (T.8 form).
Download and register Thailand Plus App. The app is designed to assist travellers and make the journey in Thailand smoothly. Download via Google Play Or App Store
5. When arriving in Thailand, travellers will go through document checking and Covid-19 control checkpoint and then transfer to your hotel.
6. After the quarantine period, enjoy your vacation anywhere in Thailand.
What to expect in Thailand?
Masks are obligatory in public, particularly indoors, while temperature checks are the norm. It is common nowadays to see people on the street wearing masks, despite not being mandatory. Sanitary hand gel can easily be found in public places.
Restaurants in most places remain open, but have had their operating hours shortened. Social distancing is a norm. Most beaches and national parks remain open, though some have imposed restrictions. Read more Thailand situation updates here.