The summer will soon be over. Some of you might already be thinking about where to go next summer. How about Thailand? Thailand becomes the favorite winter holiday destination for many scandinavian when the dark cold and grey comes in winter. In fact Thailand is good to travel all year round, even during the summer time. Many advantages of traveling to Thailand during summer holiday include less tourists, price friendly for hotel and flight. Traveling can easily book the flight and accommodations with no hassle or advance booking. Moreover, when it is less crowded you can enjoy the surroundings even more. Here are some tips of where you can visit in Thailand during June – August.
Samui – Koh Pha-ngan – Koh Tao
These 3 islands on the gulf of Thailand are the best during the summer time. The water is crystal clear and the sun always shines. Koh Samui, Koh Pha-ngan and Koh Tao are neighboring islands that can be easily traveled to each other. In fact, these three islands are good to visit until end of September.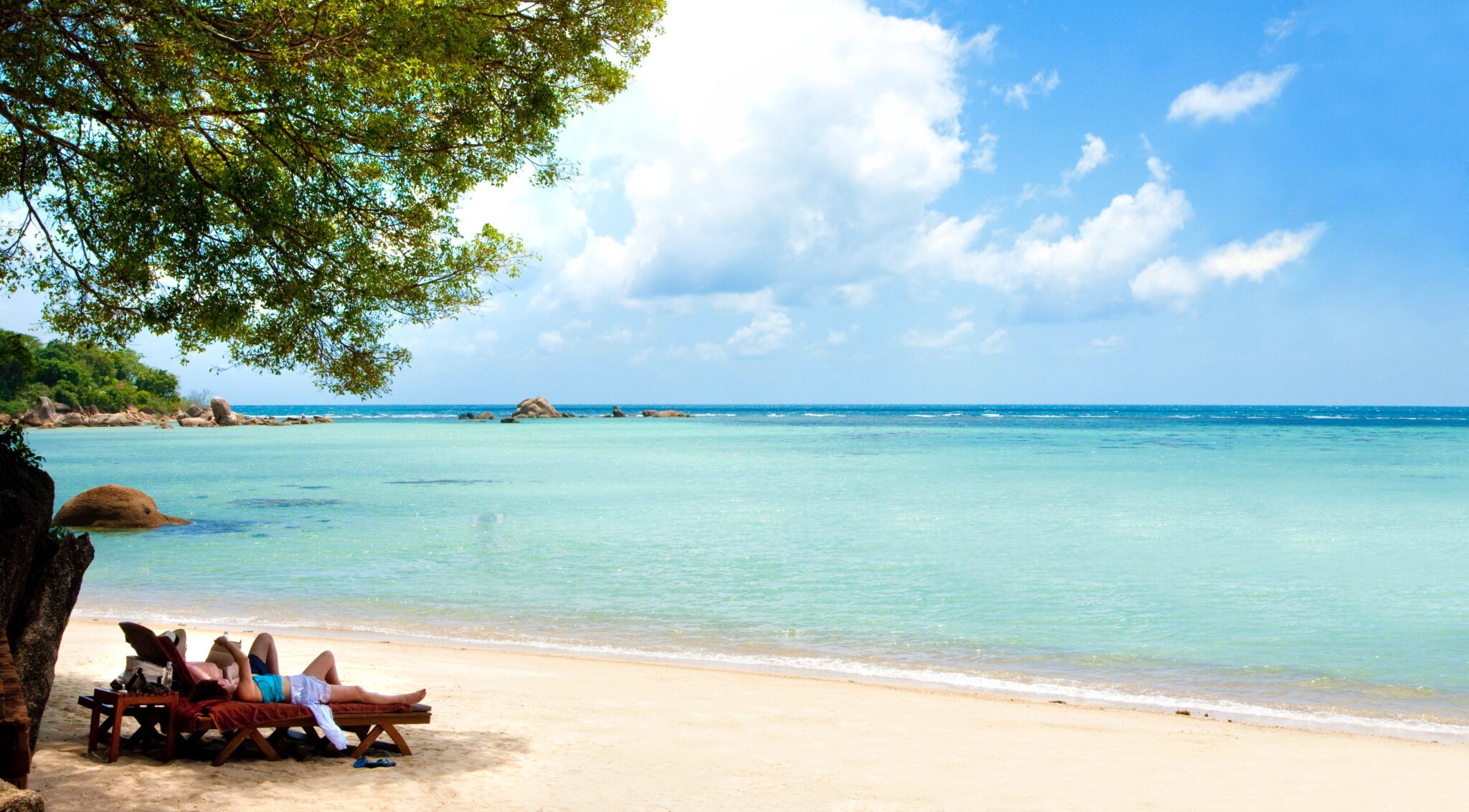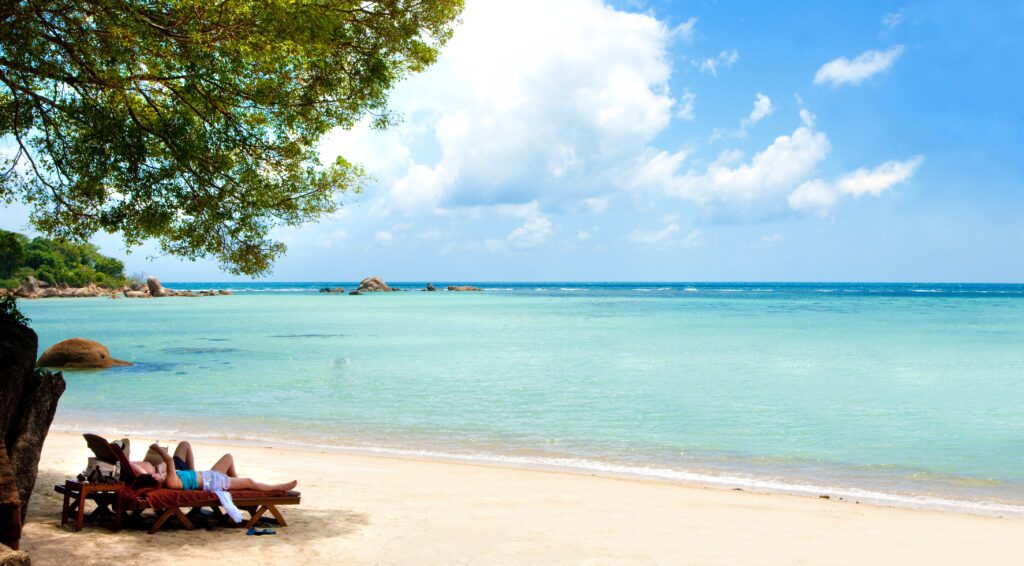 Samui – Eco friendly island
Samui island has a smaller size than Phuket but yet is packed with an abundance of amazingly beautiful beaches and a fun city lifestyle. Since Samui is a pioneer in environmentally friendly tourism and green initiatives, the island offers local charms together with the sustainable esthetic. At Baan Ma Prow or Coconut Museum, you can experience the vestire of coconut trees. Getting your hands on by learning how to make Thai dessert with coconut sugar or see how coconut oil is made. There are also many wellness centers and spas scattered around the island. Travelers can catch a daily flight to Samui from Bangkok in only 1 hours.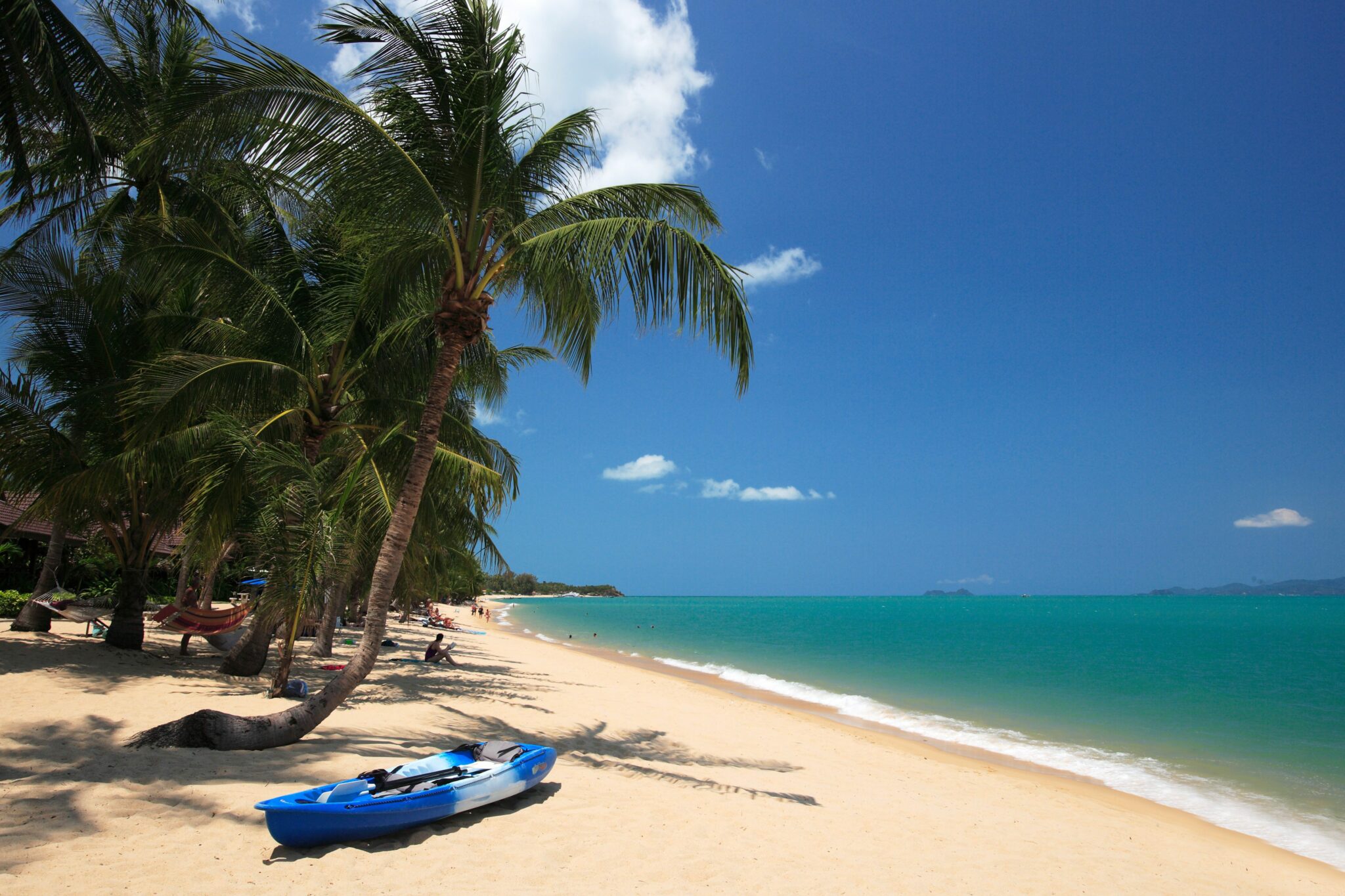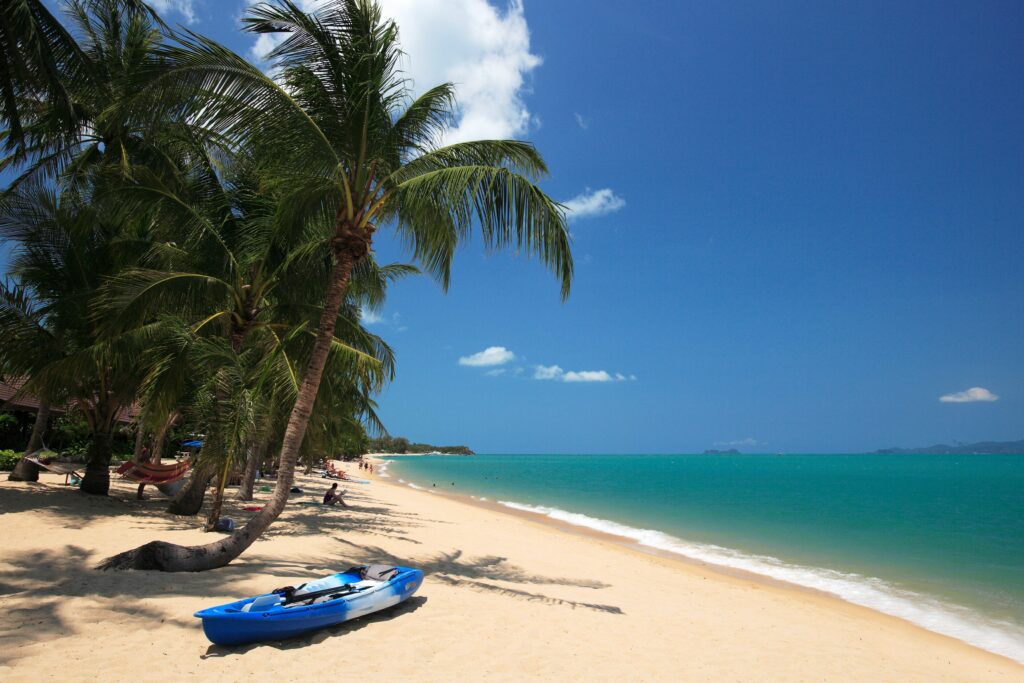 Koh Phangan – Wellness island
Koh Phangan has a more laid back atmosphere and is a popular destination for backpackers, dropouts and yogis as well as individual travellers and luxury vacationers. The island had been famous for its full moon party but the charms of this island are still waiting to be discovered. Variety of tranquil beaches and authentic fisherman villages can still be found here. The island also attracts healthy adventure travelers as many yoga and wellness retreats are located here. Hiking on the island is also possible from an easy hike to Than Sadet Waterfall to more adventure trails to Khao Ra. The island also offers many activities such as kitesurfing, zipline, fishing trips or taking it easy at the evening street markets. With only 20 minutes from Samui on a speed boat, you will reach Koh Phagan. The ferry from Surathani is also available and it takes about 2 ½ hours.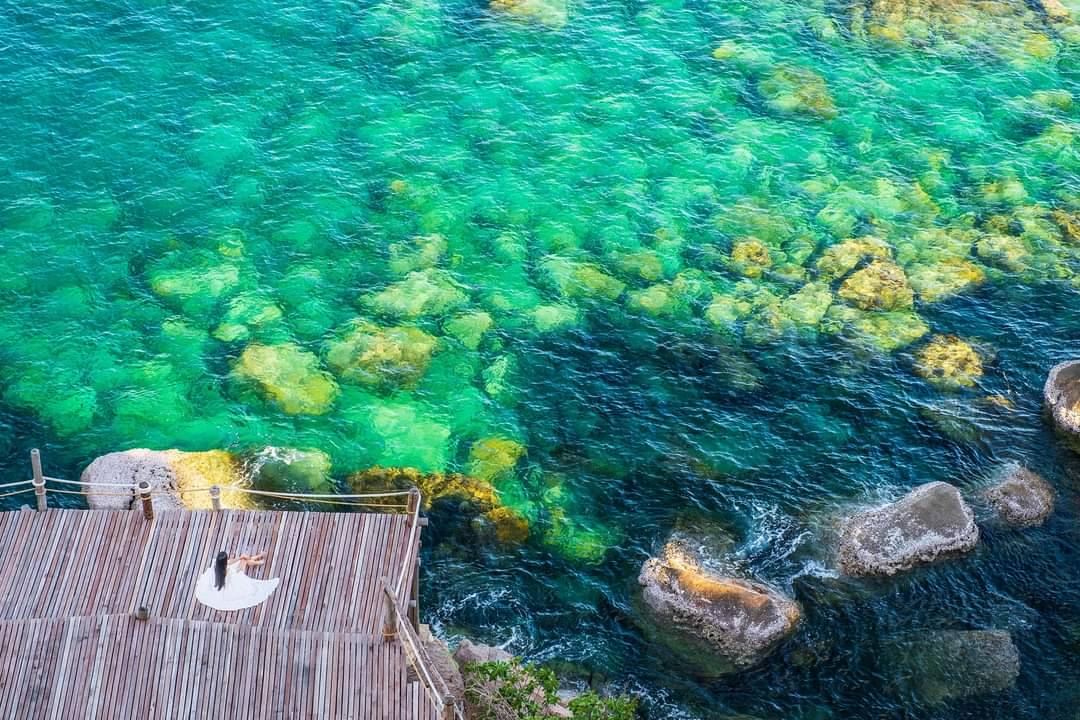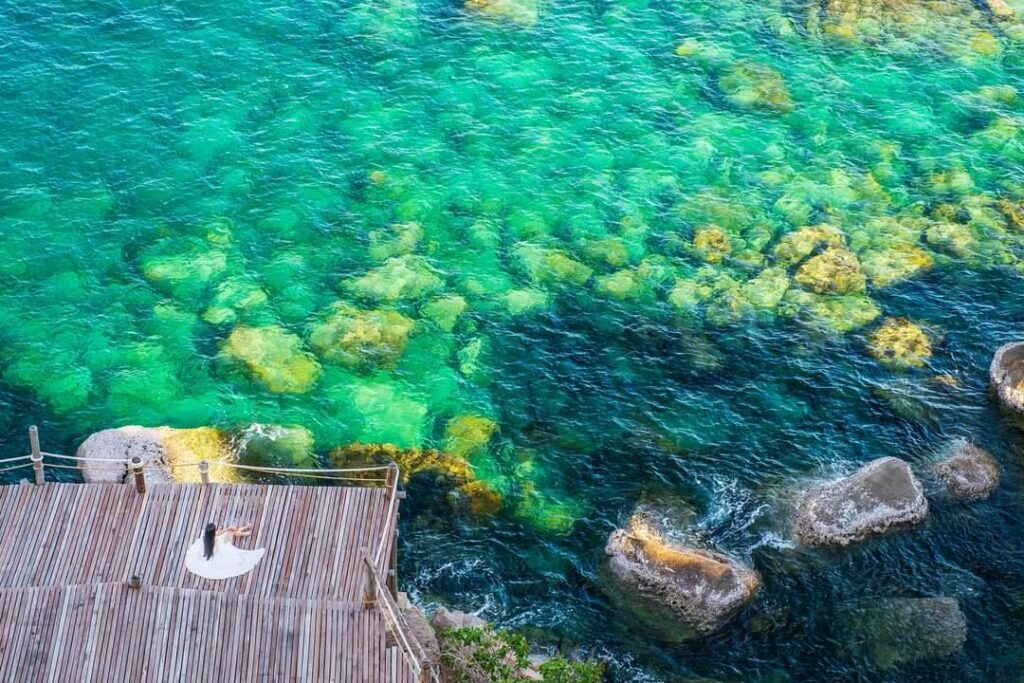 Koh Tao – Diving paradise
Koh Tao is just a small island that is renowned for its scuba diving. Koh Tao is excellent for a quiet pace of lifestyle with not much of a nightlife scene like in Koh Samui or Koh Phangan. The island is still rich with nature, especially marine life. Diving lovers can enjoy scuba diving, free diving, skin diving or simply enjoy the beautiful beaches. We also recommend a small hike to many viewpoints on the island such as John-Suwan Viewpoint or High Rock Viewpoint. The island has a good mix of accommodation to offer, from the more budget-friendly bungalow to the luxurious resort. Both Ferry and SpeedBoat connect Koh Samui and Koh Phagan to Koh Tao Island in around 1 – 2 hours. Depending on how fast you want to reach the island, the options are yours.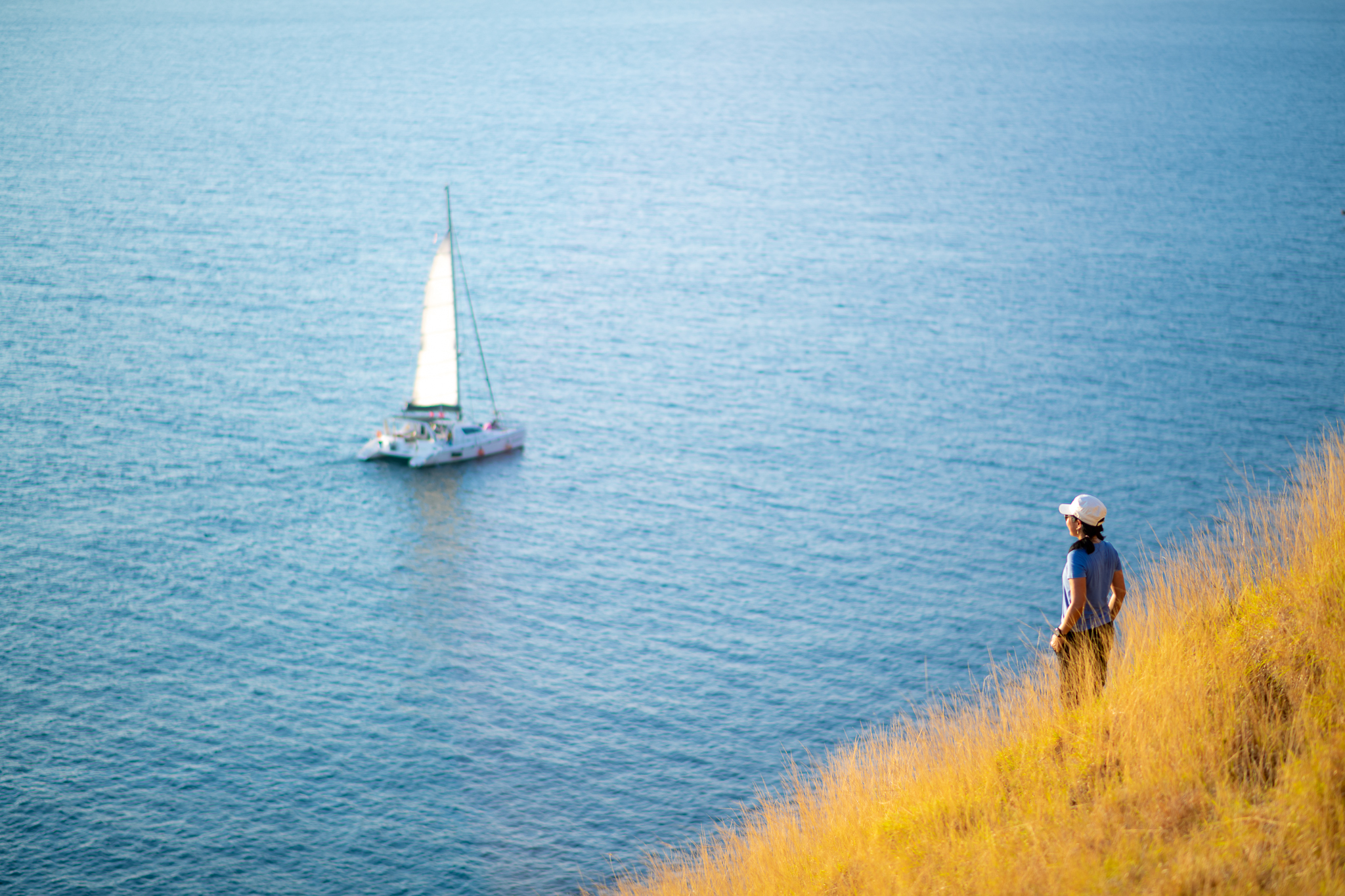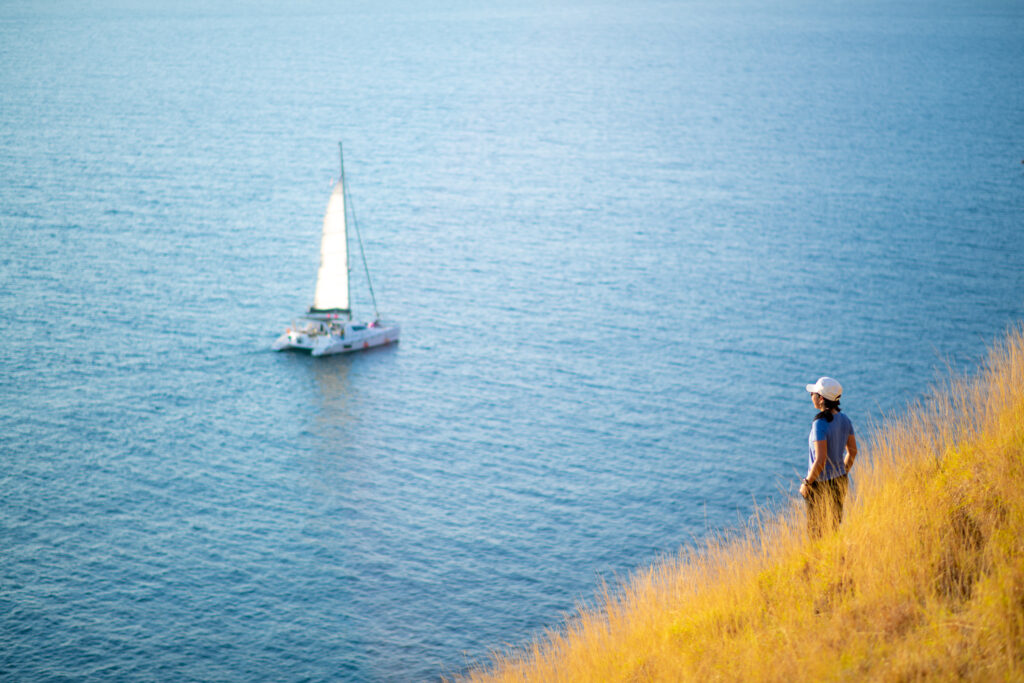 Phuket – Thailand's new surfing destination
Phuket is a surfing heaven for summer holiday. The best time is from May to October, which is the low season. Despite some rainy days, travelers can still enjoy the colorful vibe on this island until September. Kata is the best-known surfing beach. Beginner to advanced surfers will enjoy the waves here at any tide level, but conditions are best at mid-tide. Other beaches that are good for surfing are Nai harn, Kalim, Surin, Bang Tao and Nai Yang beach. Different beaches provide different character of waves that are suitable for both calmer and advanced wave riders.
Koh Mai Ton Or Mai ton island is an understated paradise with only 15 minutes from Phuket by speedboat. The island is hidden on the Andaman sea side, making it summer friendly during August and September. The island is small but with a large and quiet beach and a green hill as a backdrop. It's fantastic for a day trip and an ideal lunch spot.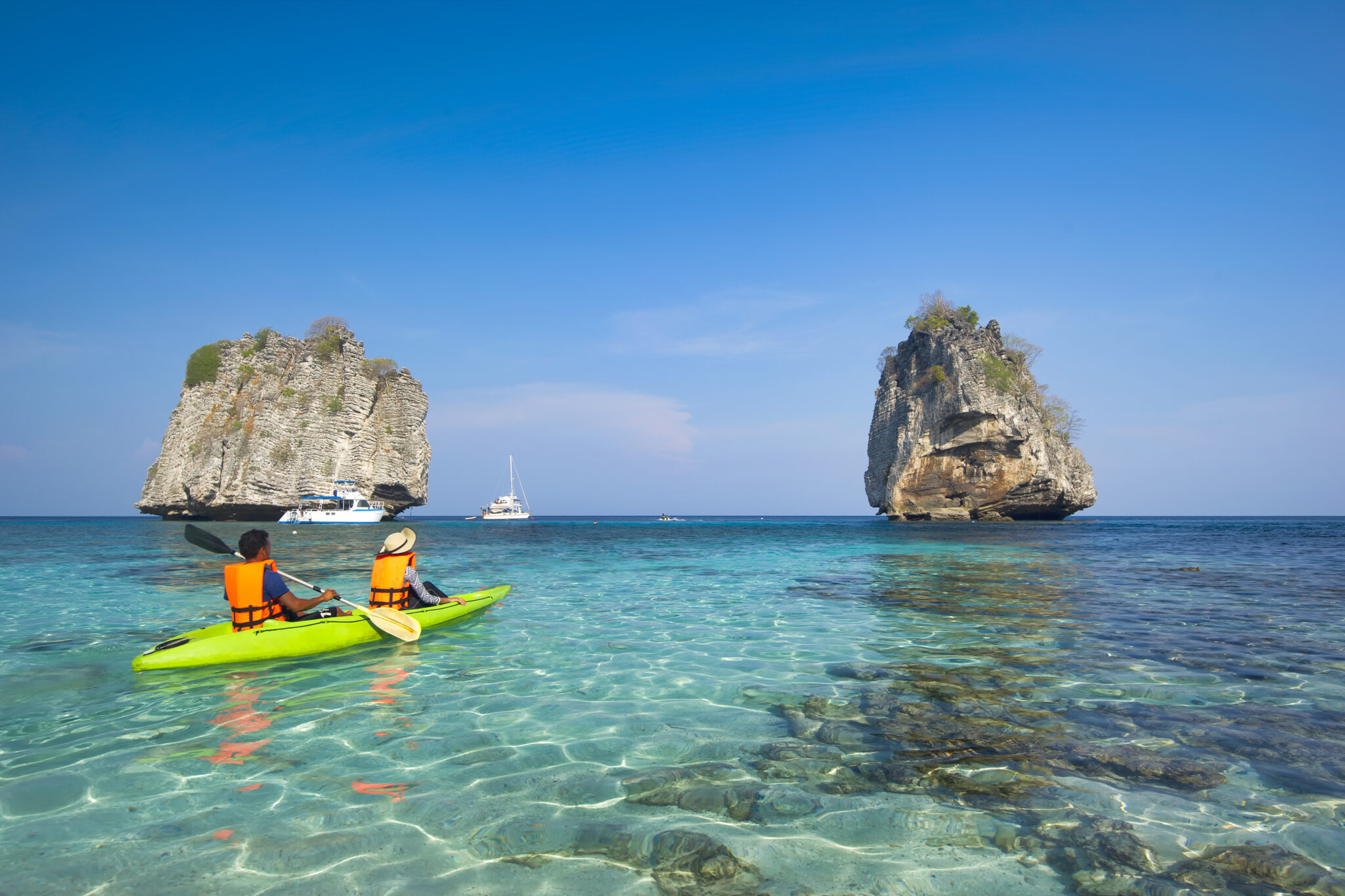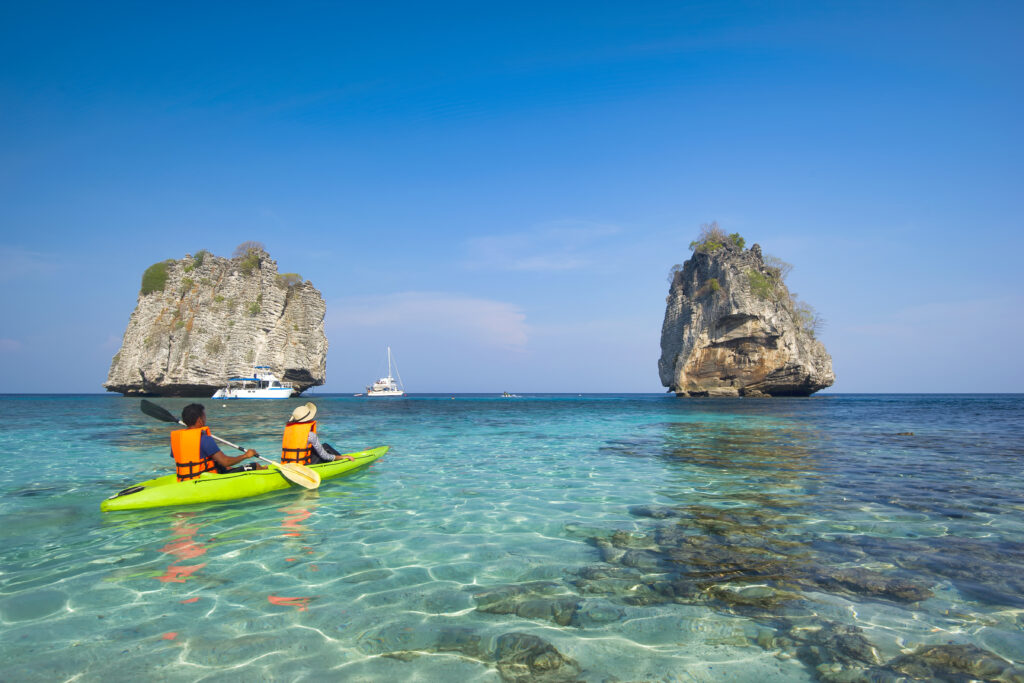 Krabi – Phi Phi island – Limestone cliff backdrops
Krabi is one of the most relaxing islands and is characterized by the beautiful nature of limestone cliffs, caves and dense mangrove forests. June and July are still a good month to visit Krabi and Phi Phi Island. Especially for those who love to dive and explore a hundred offshore small islands. From kayaking in Moo Ko Lanta, canoeing in Koh Hong, hiking to the Emerald Pool , or rock climbing in Railay, things you can do here are endless for adventure lovers.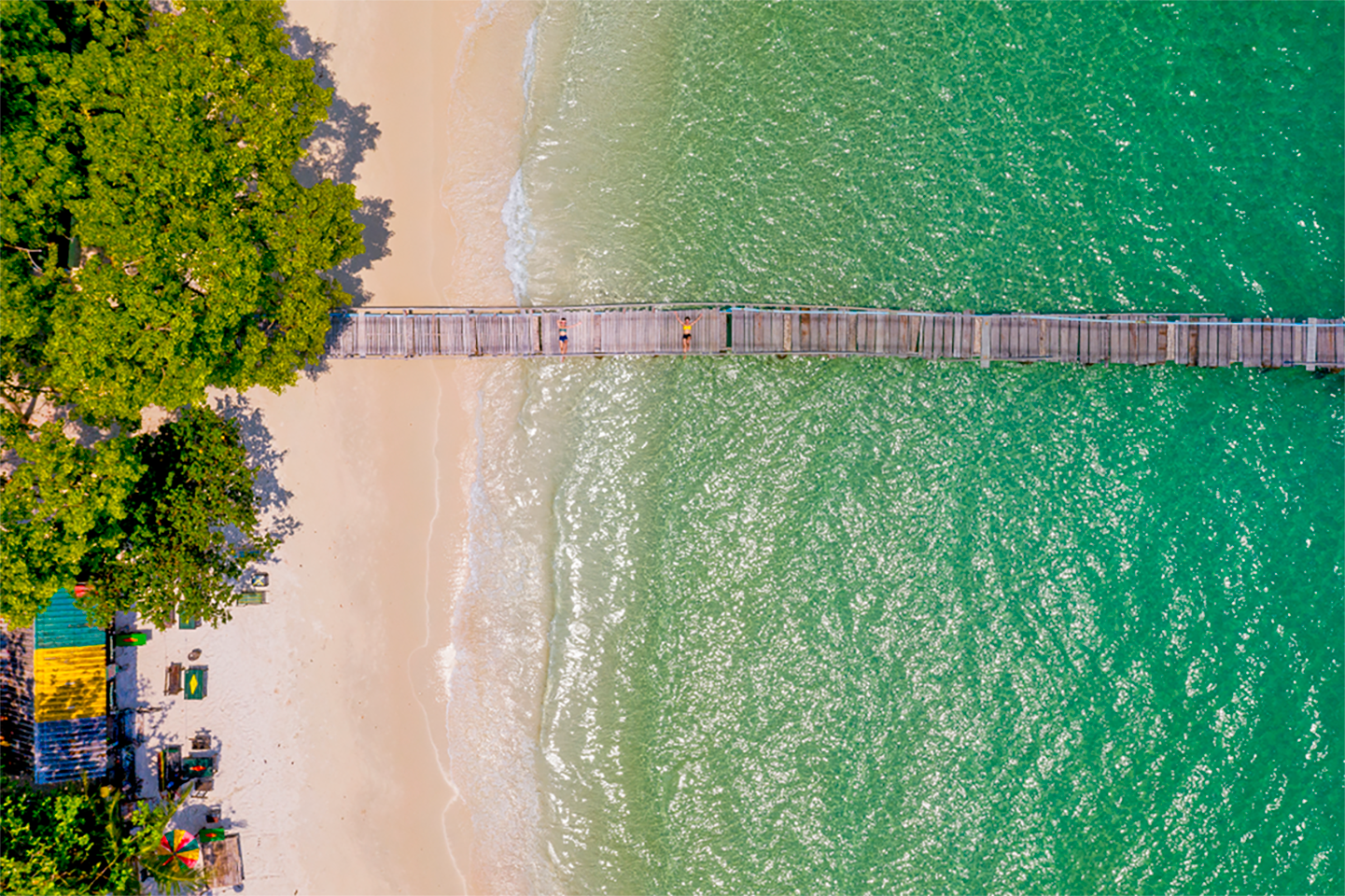 Rayong – Koh Samed – Beach paradise near BangkokKoh Samed is a weekend getaway for the local Thais. Located in Rayong which is only 2 hours from Bangkok. To get to Koh Samed is easy, travelers can take a speed boat from Ban Phe pier that takes only 15 to 30 min depending on which side of the island you want to travel to. The island is perfect for family, couples or even backpackers. Since different beaches in Koh Samed are unique, you can find calm and quiet beaches or a more vibrant and fun atmosphere. Moreover, accommodations are variant. Travelers can easily find one that suits the budget and lifestyle such as wooden bangalore, a small hip hotel or even a 5 star resort. During June and July is the low season for the island but you can expect sunshine and clear water.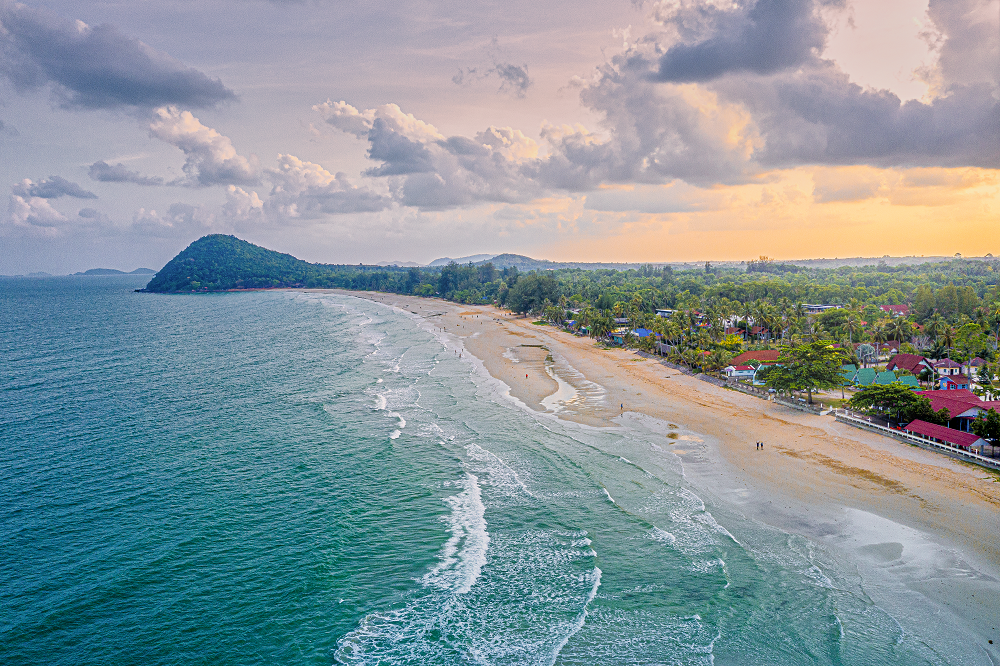 Chumphon – Local beach town
Chumphon is a relatively unknown coastal town, south of Hua Hin and is best known for coral reefs and long beautiful coastline beaches. Don't let this quiet beach town dull you away. Thung Wua Laen beach is one of the most beautiful beaches in Chumphon. It is a 2 km long powdery white sand beach. It is unspoiled with only some places to stay and some small restaurants. The water is quite shallow for a long distance offshore, suitable for swimming. You can relax on the beach, enjoying the view and tranquility. Diving in the northern tip of the island, where the coral reaches about 20 meters, is popular. Also in Koh Ran Gai and Koh Ran Ped, two small islands off Chumphon, divers can spot whale sharks on good days. Khao Dinsor is the tallest point in Chumphon province and the viewpoint is easily accessed by car or bike. For a little adventure, bamboo rafting in Phato District is highly recommended. Chumphon Night Market is also a must for street food and seafood lovers.